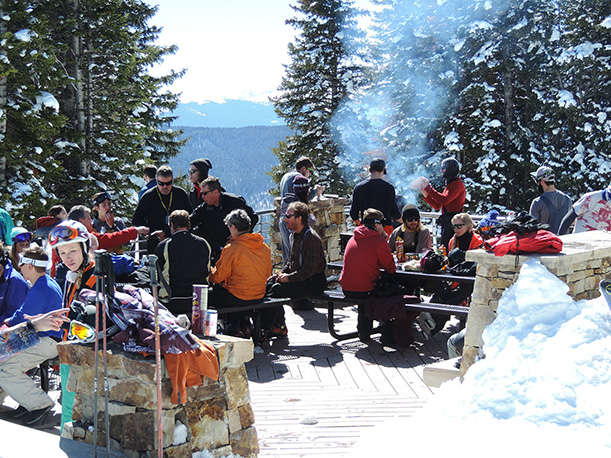 03 Jan

Vail's Best On-Mountain Decks

Spring is in the air and with the ski days getting longer and sunnier, it marks the onset of deck season on Vail Mountain.  Take a break from the ski day, grill some food or enjoy some drinks with friends as you take in some amazing views.   Vail has an abundance of great decks, patios and seating areas ranging from a party vibe to a relaxing chill scene all with spectacular views that overlook the beauty of the Rocky Mountains.  Below is our list of some of the must-visit mountain decks in Vail.

Hawk's Nest

Located by the Blue Sky Basin Overlook just past the top of High Noon Express Lift (#5), Hawk's Nest offers unbeatable views to Blue Sky basin and the Mount of the Holy Cross. This deck includes a communal gas grill that is open to the public.  Bring your own food, drink, music, and enjoy.  Be advised that this place does get busy around lunchtime on a sunny day, especially on weekends!

Henry's Hut

A very popular lunch spot, located just to the side of Buffalo's near Mountain Top Express Lift (#4).   Henry's Hut is actually a yurt with a wooden deck and seating area around it. Named after the beloved ski patrol dog Henry, who recently retired, the hut is located directly across from the mountain's Patrol Headquarters.  This deck also includes a communal gas grill that is open to the public.  The good news that If the weather takes goes south, you can go inside the yurt to warm up and enjoy the indoor seating area.

Belle's Camp

The final grill-served deck is in Blue Sky Basin, located at the top of SkyLine Express Lift (#37) and to the right.  This is one of the biggest decks on the mountain and has the most cooking and sitting space.  Known to gather hundreds of skiers and riders celebrating birthdays, engagements, retirements, etc., it's best to arrive early if you have a lot of food to grill and want to get a good spot.  On a clear day, the views from this location are spectacular!

Windows Deck

Popular among many locals as a final pit stop before heading down the hill, this deck has some of the best views in the Vail Valley. Overlooking Sun Down Bowl and Mount of the Holy Cross, it is located off of Windows Road and behind the Wildwood Smokehouse at top of Wildwood Express #3, where you can enjoy some of the best BBQ in the Valley.  On long spring days, you can see amazing sunsets from this location as you share your favorite ski stories with your friends.

Jebbie's Deck 

This is the easiest deck to find as you can see from above as you are riding Avanti Express Lift (#2). It's located on top of the Black Forest Epic Mix Racing Course, and beside the kid's favorite adventure park, Chaos Canyon.  It is very easy to access, which makes it ideal if you want to have a family-friendly lunch on the mountain and is ideal for groups of all ages and ski levels. Jebbie's Deck is usually not very busy but if you are planning to have a bigger party you should go there earlier or make prior arrangements. Also, keep in mind that this outdoor seating area does not have a grill or a restaurant nearby so plan on bringing picnic-style foods.  It is also very visible from the lift and from the ski run so make sure you keep that in mind if you plan on hosting a party!

Steady's Deck 

This is the newest deck on Vail Mountain, opened for the 2016/27 ski season, named in honor of legendary orthopedic surgeon, Dr. Richard Steadman, who's famed Steadman Clinic has saved the careers of many professional athletes, Olympians, and skiers of all levels.  It is located right off of Eagles Nest Ridge and above the Pickeroon ski run.   This deck gives you amazing views of the iconic Gore Mountain Range and the front side of Vail looking down into the Valley.  There is no grill at this location, but it is generally quiet and not busy making it one of the more peaceful decks to visit during your ski day.

For a full list and more images, please visit: http://blog.vail.com/vails-on-mountain-decks/

Keep in mind, all decks close at 4:00 PM, even with the days getting longer!