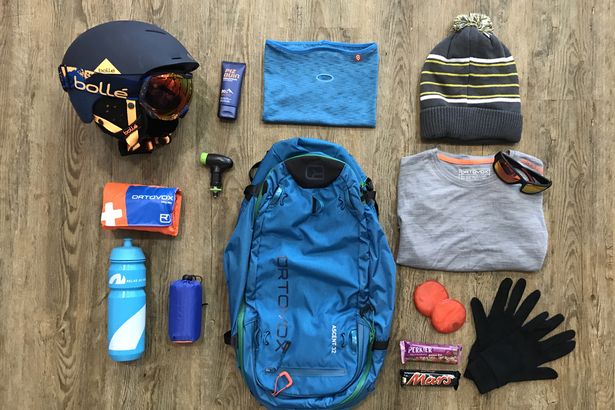 09 Jan

Ski/Snowboard Trip Checklist

Wherever your ski/snowboard travels take you this season, packing for such a trip isn't always as fun as picking the destination. To help minimize the stress, simply follow our packing list and tips below and you will be ready to go in no time!

Ski & Snowboard Clothing (Layers, layers, layers!)
Jacket – 1 – 3 waterproof ski jackets
Pants – 1 – 3 waterproof ski pants
Mid-Layer – down or fleece vest or zip-up mid-weight jacket
Base Layer Tops – 1 -4 non-cotton base layer tops
Base Layer Bottoms – 1 – 4 non-cotton base layer bottoms
Gloves & Mittens – 2 pairs of waterproof and insulated ski gloves or mittens
Sweaters – 1 – 4 fleece or wool sweaters
Warm winter hat
Socks – 3 – 4 wool ski socks
Neck Gaiter – non-cotton balaclava or ski mask
Ski & Snowboard Gear
Skis
Ski boots
Ski poles
Snowboard
Snowboard boots
Goggles (2 pairs if available)
Sunglasses
Helmet
Hand and toe warmers – 1 – 7 packs of each, or electric boot warmers
If it's your first-time skiing or boarding, consider renting your gear ahead of time and having it delivered to your vacation residence upon your arrival for an in-room fitting.  Ski gear is expensive and only worth investing in if you're ready to commit.  Here are a few providers we recommend that you can book yourself with our exclusive discount included.  Just click on each link to direct you to the booking site:
PRO TIP: Consider shipping all of your gear to arrive and have unpacked ahead of time.  We can set this up for you through our key partners below.  (click on each link below to book yourself.)  Free yourself of the hassle of checking in bags at the airport and then lugging them to your destination.
Tip: If available, bring along different colored goggle lenses. Pack yellow lenses for snowy days, and polarized or mirror lenses for sunny days.
Mountain Casual (Non-Ski) Clothing
Warm winter jacket
Warm winter hat
Gloves and mittens
Sweaters
Jeans and pants
Warm winter socks
Waterproof winter boots
Rain jacket/shell
Underwear
Pajamas/Lounge pants (tops and bottoms)
Bathing suit for hot tub/pool
Slippers/Flip Flops
Miscellaneous
Lift tickets/Ski Pass
Itineraries, tickets, and reservation confirmations
Maps and directions
Credit card, cash,
Identification card
Medical insurance cards
Prescriptions and other medications
Eyeglasses and contact lenses
First aid kit
Jewelry/Watch
Belts
Purse
Small backpack
Books and magazines
Toys, playing cards, and small games
Snacks – granola bars, fruit, nuts, etc.
Power cables for electronics – phone, computer, electric toothbrush, etc.
Toiletries
Sunscreen (SPF 30 and up) and Lip balm
Toothbrush, toothpaste, dental floss, and mouthwash
Hair Brush, combs, and other hair accessories
Soap/Body Wash
Shampoo and conditioner
Moisturizer Lotion
Deodorant
Shaving supplies
Cosmetics
Nail clippers/scissors and nail file
Pocket tissues
For a Baby
Diaper bag/Disposable diapers
Changing pad
Baby powder and lotion
Wet wipes
Bibs
Baby food and spoon
Bottles and caps
Formula
Pacifiers
Changes of clothing – tops, bottoms, and socks
Warm winter jacket and winter hat
Mittens
Sweaters
Stroller
Car seat (unless provided by rental car)
Child-carrying pack
Blankets
Burp pads
Bathing supplies – shampoo, conditioner, soap, and lotion
Nice to Have
Headphones and batteries
Travel pillows
i-Pads/portable DVD player
Bluetooth speaker
GoPro camera/charger
Packing Tips
Select the right luggage

Boot bag: Put goggles inside the helmet and add gloves for padding
Ski bag: Get durable one with wheels, preferably one that carries two pairs (or a snowboard bag that carries two boards) and weighs less than seven pounds

Pack like a pro

Roll and stuff. Fill any opening in your luggage and in and between your gear with clothing items. Your ski boots can double as underwear and sock holders. The bucket of your helmet will hold your puffy jacket.
We hope this list alleviates your packing stress and helps to maximize your fun on the slopes and in the town.  Did we miss something? Feel free to leave us a comment below and we will add it to our list.  Safe travels!