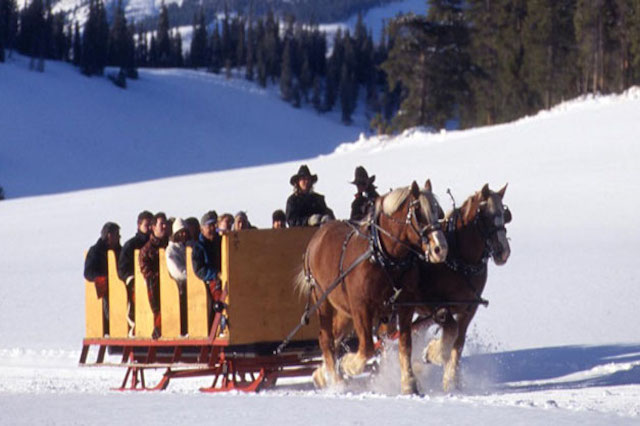 28 Dec

Sleigh Ride Dinners in Vail and Beaver Creek
UPDATE: PLEASE READ!
Mountain Resort Concierge will no longer be booking any dinner reservations for sleigh ride dinners UNLESS you have already purchased a vacation package with us that includes a reservation service.  If you are interested in a one-time reservation for a sleigh ride dinner, please contact the restaurant or establishment directly.   For information on this season's sleigh ride dinners, please click on the link for each individual location below to be directed to their website for more information.  Thanks for your understanding!
Unfortunately, Game Creek Club will still be closed for non-member dinners for the 2022/23 winter season.
For those looking to take an exciting culinary adventure during your trip to Vail and Beaver Creek, here is our complete list of sleigh ride dinners that are sure to provide you with an experience you will never forget.  (Please check the restaurant's official website (links above) for the latest information as prices and dates may have changed since this post was created.)
Beaver Creek
Allie's Cabin
Allie's Cabin family Dinners offer a memorable, on-mountain dining experience for the whole family.  Arrive via open air sleigh ride and delight in a warm welcome with plush lodge slippers. Be treated to a three-course dinner for adults— complete with a children's buffet offering (available for children 12 and under).
Sleighs depart at 5:45PM, 6:15PM, 7:00PM and 7:30PM every Tuesday and Wednesday evening.
 Additional dinners offered over the following Saturday evenings: December 23rd, December 30th, January 13th, February 17th, and March 10th.
Adults dine from a 3-course menu for $89 per person. Children may dine from a buffet for $42 per person. Reservations required.
https://www.beavercreek.com/explore-the-resort/beaver-creek-reserve/allies-cabin-dinners.aspx
Beano's Cabin
Tucked into an on-mountain meadow at the base of Larkspur Bowl, this luxurious log hideaway is one of Colorado's top restaurants. Start your evening with an open-air sleigh ride through Beaver Creek's iconic aspen groves to an exquisite gourmet dinner. Here, you'll be treated to a true feast for the senses with our open kitchen where guests can watch our chefs in action as they prepare five-course meals comprised of traditional Colorado fare. It's the most delicious way to end a perfect day on the slopes.   Kids menu available. Sleighs begin at 5 p.m., departing every half hour.
Adults enjoy a 5-course menu for $139* per person.  Reservations required.
Children enjoy a 3-course dinner for $79* per child (6-12 years old), $25* per child (3-5 years old), and complimentary* for children 2 years old and under.
https://www.beavercreek.com/the-mountain/on-mountain-dining/beanos-cabin.aspx
Zach's Cabin
Perched on the mountainside high above Bachelor Gulch with the uninterrupted views of the magnificent Gore Range, Zach's is the epitome of fine dining at its peak. Guests are whisked away for a starlit sleigh ride, pulled by a Beaver Creek Snow Cat.  Famous for its artful assemblage of fresh Rocky Mountain fare featuring the finest regional and seasonal ingredients paired with excellent vintages for the perfect dinner experience.  (Adult focused no kids menu)
Each item on the menu is made in house, so dining at Zach's is more than a dinner, it is an experience to savor. Zach's is deliciously elegant, with a fairy-tale ending in the form of a starlit sleigh ride, and has been awarded the Wine Spectator Best Of Award of Excellence for 10 years running.  Reservations required.
https://www.beavercreek.com/the-mountain/on-mountain-dining/zachs-cabin.aspx 
Wolcott
(30 minutes from Vail, 20 minutes from Beaver Creek)
4 Eagle Ranch
Crisp mountain air, star-lit skies, and a horse-drawn sleigh all await you at 4 Eagle Ranch. Your evening will begin at 6:00 pm and will conclude at 8:30 pm. When you first arrive, you may choose to enjoy a warm drink and a bowl of Juan's famous chili before snuggling under cozy blankets for an unforgettable sleigh ride beneath wide open, star-lit skies. When you return, an authentic ranch dinner will be waiting for you with some of the finest cooking this side of the Continental Divide. Throughout the evening, an entertainer will serenade you with well-known songs beside our open-hearth fire or potbelly stove. An outdoor campfire will entice you to create a s'more or two before it's time to leave. Dress is casual, but make sure you dress warmly. Whether this is your first time joining us or it's a family tradition, your evening promises to create lasting memories.  Reservations required.
Adults: $85 (Seniors and Military $75)
Children 5-12: $50
Children 2-4: $25
Under 2: FREE
Sleigh rides start at 6:00 pm
Open: Monday, Wednesday, Thursday, Friday, and Saturday.
https://4eagleranch.com/sleigh-ride-dinners-near-vail/
Edwards
(25 minutes from Vail, 15 minutes from Beaver Creek)
Bearcat's Cabin
Nestled in the Squaw Creek Valley in Cordillera, 15 minutes west of Beaver Creek, Colorado, Bearcat's Cabin is the original cabin the Bearden family homesteaded during the early 20th century. Thanks to the efforts of the Cordillera Preservation Foundation and Bearcat Stables, the Cabin has been completely restored, and now acts as one of Vail's most historic restaurant settings. You and your family are invited to tour these historic grounds via Horse and Sleigh while sipping on your favorite beverage. Our knowledgeable team drivers will give you the history of the land and make your journey unforgettable. Bring your camera because you will want to take pictures of these majestic 2000-pound animals. After your ride, step into a piece of Colorado history as you dine in this historic setting.
Open Tuesday-Saturday evenings from December through April, and seven days a week through the Christmas/New Year holiday. Each sleigh seats up to 14 guests. Reservations Required.
Two Sleigh Ride Options Available:
Apres Ski Sleigh Rides – Tuesday-Saturday. Departs every 30 minutes 3-5 pm.
– Happy hour drink specials.
– Free s'mores kits for the kids.
– Private groups welcome.
– $30.00 per person.  Children aged 3 and under ride for free.
Sleigh Rides with Dinner- Seatings at 5:30 and 7:30. 4-course savory Colorado cuisine with children's menu (upon request).
– $85.00 per person ages 13+ years
– $55.00 per child ages 4 to 12 years
– FREE for children ages 3 and under.
https://www.bearcatstables.com/sleigh-rides