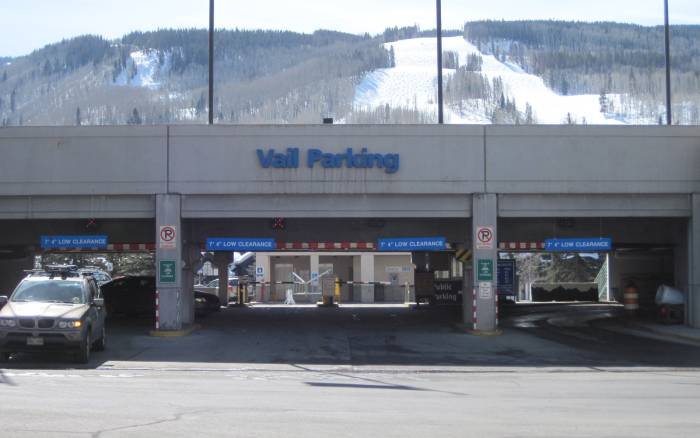 28 Feb

Guide to Skier Parking in Vail and Beaver Creek

FOR ALL UPDATED INFORMATION ON PARKING, PLEASE VISIT: https://www.vailgov.com/government/departments/transportation-services/parking-information/winter-parking

PLEASE NOTE:  MRC DOES NOT RESPOND TO QUESTIONS ON PARKING, SO IF YOU NEED TO SPEAK TO SOMEONE WITH FURTHER QUESTIONS PLEASE CALL THE VAIL INFORMATION CENTER AT 970-476-4790. THANKS!

When it comes to skier parking in the Vail Valley, there are a plethora of options. From paid parking in a garage to free parking on the frontage road, our comprehensive parking guide will help you make the best choice so you can maximize your time on the hill instead of on the road.  Keep in mind, that as a general rule of thumb, the less money spent on parking translates to more walking and/or bus boarding.  However, all available options are still convenient enough to get you to and from the mountain with relative ease.  Check out all the details below!

VAIL – PAID PARKING

Vail Village Parking Structure

Lionshead Parking Structure

0-1 hour Free

2-3 hours $10

3-4 hours $20

4-15 hours $30

15-24 hours $50

VAIL – FREE PARKING

Vail Village and Lionshead Parking Structures:

First 2 hours FREE; Free upon entry after 3 p.m. until 3 a.m.

South Frontage Road Overflow:

North side of the road across from the Vail Village and Lionshead Parking Structures when both structures are full, until 11 p.m.

Red Sandstone Park (15 spaces) 725 N. Frontage Rd. W: Daily, 7 a.m. – 11 p.m.

Donovan Park (90 spaces) 1600 S. Frontage Rd. W.;

Available only when Pavilion is not in use (see signage at the entrance or for updates visit vaileventparking.com) 7 a.m. – 11 p.m.

North Frontage Road (75 spaces)

Across from West Vail Mall, park in designated sign areas only; Daily, 7 a.m. – 11 p.m.

North Frontage Road (100 spaces)

West of West Vail roundabout, park in designated sign areas only; Daily, 7 a.m. – 11 p.m.

Trailhead Parking

Parking is limited and some spaces are restricted to three-hour trailhead use only; Daily 7 a.m. to 11 p.m.

Download PDF on Vail parking information

BEAVER CREEK – PAID PARKING

Villa Montane Garage and Ford Hall Parking Garages

Entry before 3 PM:

Under 1 hour – FREE
1 hour to under 3 hours – $15
3 hours – to under 4 hours – $25
4 hours and over – $35

Entry after 3 PM:

Under 3 hours – FREE
3 hours – to under 4 hours – $25
4 hours and over – $35

Open from 7 AM – 11 PM

Bear and Elk Lots

Both lots are located at the base of the main entrance to Beaver Creek, with a complimentary, direct shuttle available for a short ride to the Beaver Creek Village. To get to both lots,  head west on Highway 6 from Avon and the Elk Lot is the first lot you will come to on your left.

Daily flat rate – $10 (the first hour is free)
Ten-day pass – $75
After 1 PM – Free

More information available here

AVON – FREE PARKING (access to Beaver Creek)

These spaces provide access to free buses and the free Riverfront Express Gondola, located at the Westin Resort. Parking is dispersed throughout the town center with a variety of on-street, parking lot and parking structure spaces available. All parking is free with no overnight parking from 12 a.m. to 6 a.m.  Look out for Avon's parking signs with easy to read blue circles and "P" designation.

For a map of Town of Avon free parking, visit www.avon.org/parking

All-Day Parking

Lake Street On-Street Parking | 41 spaces

Old Town Hall East Parking Lot | 76 spaces

East Benchmark Road On-Street Parking | 21 spaces

3-Hour Parking

Avon Recreation Center | 93 spaces

West Beaver Creek Blvd On-Street Parking | 20 spaces

MORE TIPS AND TRICKS

Another great trick in Vail is to monitor the town's structures on a busy day and get a good frontage road free spot when those lots fill. On holidays and weekends, especially if fresh snow recently fell, those lots will fill fast. And once they do, you can park in front of them for free. Watch the structures fill in real time using http://www.vailgov.com/parking/counts.

All of the above-listed areas are serviced by Vail's bus system, which is free. Check out the schedules at http://www.vailgov.com/bus-schedules.