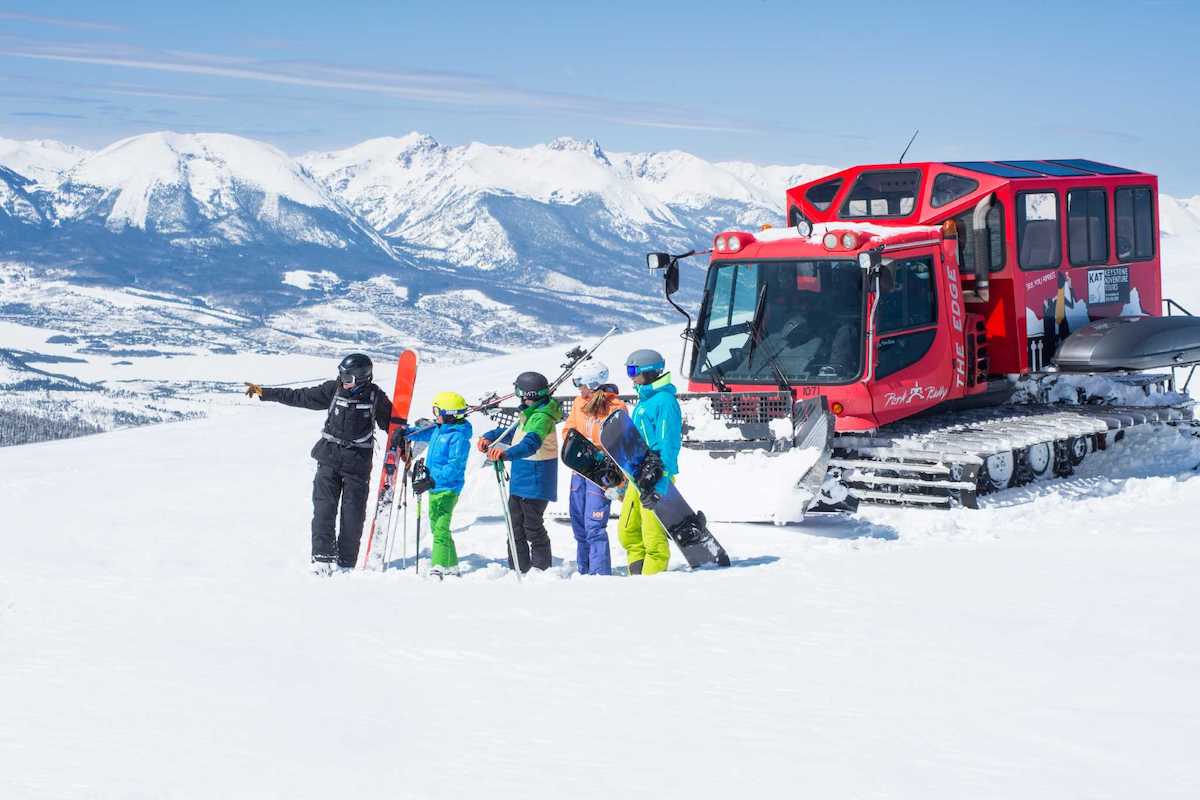 05 Jan

Cat Skiing Near Vail

With COVID-19 still clearly on our radar, some of us may still have concerns about the resort ski experience.  The potential for longer lift lines, limited on-mountain dining options, and riding the lift with a stranger (if you are skiing alone) all have us wondering what other options may exist.   Well, if you have a group of friends and a few extra dollars lying around, cat skiing may be the best answer to your winter skiing woes.

Cat Skiing is backcountry (off-the-resort) skiing where skiers are transported to the top of the run via a "cat", a large grooming style machine.   Offering easy access to fresh powder skiing with no hiking or ski touring required, most US cat ski operations offer affordable single day trips that sometimes include a lunch stop at a yurt or a warming hut.  With guided cat skiing, you can also rely on experienced guides to minimize associated risks such as avalanches and getting lost.

Cat skiing is considerably cheaper than heli-skiing can still operate in inclement weather.  Cat Skiing operators also know their terrain well which minimizes risk factors and can also utilize snowmobiles to mitigate avalanche control and test the snow.  You may not cover as much vertical with cat skiing, but it is more than adequate for the average advanced/expert skier.  It is also probably the safest form of backcountry skiing you can do as most runs are not high angle or prone to avalanches or cliffs.

Tips for a great cat trip
Practice skiing powder — easier said than done, but if you can't ski powder, it's going to be a long day.
Buy or rent powder skis — fat skis and boards float on the snow, making turning easier.
Find 11 friends. Most cats are cheaper by the dozen. Booking all 10 to 12 seats in a cat can save hundreds of dollars.
Take snacks. Most cat operators serve lunch but take water and high-energy snacks for mid-morning options.
Sneak in after a storm. To guarantee great snow, small parties can often book seats a few days in advance at no extra cost, especially on weekdays. If you see a big storm in the forecast, book right after.
Hit the hay. Cat skiing is a long, hard day of expert terrain. A good night's sleep and proper hydration the night before will make all the difference.
Take your favorite tunes. Many cats have kickin' sound systems. Listen to your favorite tunes on the way up to get psyched for the next run.
Cat Skiing Operations near Vail
Click on each link below for more details.  Contact us when ready to book your experience. 
Locally owned and operated for over 14 years, this is the closest cat skiing to Vail resort. They are the only guided snowcat skiing outfitter permitted by the USFS to operate in the Vail Pass Winter Recreation Area and run only one snowcat with the goal of skiing fresh tracks every day. With one of the best safety records in the industry, they are currently limiting trips to small, intact groups and full snowcat buyouts.  We highly recommend this option!
Experience Keystone like never before with a full-day guided excursion through Keystone Adventure Tours. Their expert guides will take you via snowcat to some of the best terrain on the mountain.  Enjoy turns in serene bowls and in the trees, as you feel like you have the whole mountain to yourself. Full cat buyout pricing available.
Jones Pass Guides (formerly known as Powder Addiction)
Just a short 45 minutes from Denver, Jones Pass Guides features thrilling backcountry powder adventures led by a crew of passionate guides that are chest-deep in skills and experience. Their tours begin 9 miles north of Empire on Jones pass off of Highway 40 (on the way to Winter Park) and guests are guaranteed a day full of epic adventure.